November 2021
Nail guns are powerful, easy to operate, and boost productivity for nailing tasks. They are also responsible for an estimated
37,000 emergency room visits each year. Severe nail gun injuries have led to construction worker deaths. Nail gun injuries are common in residential construction. About two-thirds of these injuries occur in framing and sheathing work. Injuries also often occur in roofing and exterior siding and finishing.
Nail gun safety starts with understanding the various trigger mechanisms. Here is what you need to know:
How triggers differ
All nailers rely on two basic controls: a finger trigger and a contact safety tip located on the nose of the gun. Trigger
mechanisms can vary based on: 1) the order in which the controls are activated, and 2) whether the trigger can be held in the squeezed position to discharge multiple nails OR if it must be released and then squeezed again for each individual nail. Combining these variations gives four kinds of triggers. Some nail guns have a selective trigger switch which allows the user to choose among two or more trigger systems. Each trigger type is described below along with a summary of how the controls are activated.
Full Sequential trigger
This is the safest type of nail gun trigger. This trigger will only fire a nail when the controls are activated in a certain order.
First, the safety contact tip must be pushed into the work piece, then the user squeezes the trigger to discharge a nail. Both the safety contact tip and the trigger must be released and activated again to fire a second nail. Nails cannot be bump fired. Also known as single-shot trigger, restrictive trigger, or trigger fire mode. Full story »
spotlight
Hygiene has never been more important—it's also never been more scrutinized. The pandemic has forced manufacturing facilities to heighten their focus on cleaning and hygiene protocols and has introduced new protocols for manufacturing employees.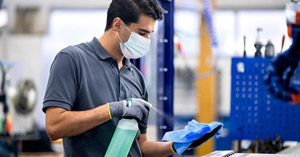 While health and safety have always been top of mind in manufacturing facilities, hand and surface hygiene have become a required part of maintaining employee wellbeing. Since March, facility managers have been tasked with preparing environments to secure this new hygiene standard.
To read this article in its entirety, click here»
today's News
CHICAGO and BURLINGTON, MA -- Aclaimant, software as a service (SaaS) company that digitizes risk management offices, announced a product collaboration with ClickSafety, a provider of online safety compliance training programs.
DES MOINES, IA -- MākuSafe announced the launch of a game-changing new feature in its EHS analytics software. The new feature, Motion Explorer, will provide safety professionals, ergonomists, and risk managers with the data they need to uncover potential hazardous motion issues among workers before they become serious injuries.
HAMILTON, ON -- The Canadian Centre for Occupational Health and Safety (CCOHS) has released two free online courses to help workplaces and employees prepare for a safe return to work during the COVID-19 pandemic.
WASHINGTON, DC -- The National Institute for Occupational Safety and Health (NIOSH), in partnership with the U.S. Coast Guard, announces the availability of $3 million in extramural grant funding for commercial fishing safety research and training in fiscal year 2022.
WESTMINSTER, CO -- Martin Technical, Inc., provider of workplace safety solutions and consulting services, announced that it has teamed up with extended reality solutions provider, PIXO, to provide an immersive safety learning experience via virtual reality (VR).