december 2022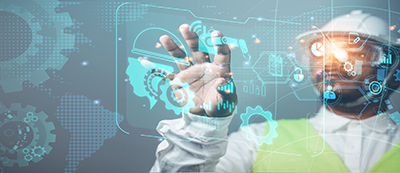 The idea of AI or Artificial Intelligence is not new. Inanimate objects replicating intelligent life and moving can be traced back as far as the Greeks. The study of human movement, or biomechanics, goes even further - to the time of the ancient Egyptians. In modern times, the combination of AI, biomechanics, and digital motion capture technology are coming together to improve our lives at both work and home.
Most of us use some type of AI device or service; whether it's a Fit-Bit, Apple Watch, Alexa or Siri, these tools are improving our ability to live and work while tracking more data and providing more information, faster and with more efficiency. With the rapid speed of AI development, it's no surprise that these technological improvements are moving into the workplace, improving our abilities to work safely, and providing access to more health metrics than ever before.
Many people track their daily steps using a wearable device or their phone. Work-related wearables range from simple pedometers to highly technical exoskeletons. And now, AI is allowing employers to identify & track risks without a wearable at all. Employers can use a combination of tools to identify
risks, provide coaching and improve worker health on the job.
Clinicians use traditional observational, quantitative, qualitative assessments in combination with newer technologies such as digital video and digital 3D technologies to assess workers – with and without a wearable.
Everyone from Human Resources to Safety Managers and the Workers themselves want everyone to go home in the same physical condition they arrived in – if not better. Digital AI enhancements are helping employers accomplish this goal. This is an especially exciting time for safety innovation; research shows AI tools improve body mechanics, reduce fatigue, improve performance, decrease injury risks, and help to improve overall worker satisfaction.
A February 2022 Gallup survey of over 15,000 full & part-time employees in the US indicated that attitudes towards the workplace had returned to prepandemic levels. Less than 25 percent of workers believe their bosses have their best interests in mind. This percentage is the lowest since 2014.
In 2014 the unemployment rate was at 5.8 percent, as of the end of July 2022 unemployment was 3.5 percent. Since the attitudes towards employment do not seem to correlate with the numbers, it seems more important than ever to hold onto and care for the employees you have. One way to do that is to make them feel needed by investing in their health and emotional wellbeing. Increasing their feedback and input into workplace changes and improvements, investing in improved safety and workflow processes, and creating a culture of caring. Full story »
today's News
FALLS CHURCH, VA. -- AIHA announced Poppy Crum, PhD, and Faridodin "Fredi" Lajvardi as keynote speakers at AIHce EXP 2023.

Full article »
WASHINGTON, DC -- The U.S. Environmental Protection Agency (EPA) proposed a rule that would improve reporting on per- and polyfluoroalkyl substances (PFAS) to the Toxics Release Inventory (TRI) by, among other proposed changes, eliminating an exemption that allows facilities to avoid reporting information on PFAS when those chemicals are used in small, or de minimis, concentrations.
WASHINGTON, DC -- Advancing its efforts to eliminate workplace fatalities though technology, the National Safety Council released a white paper through its Work to Zero initiative: Managing Risks with EHS Software and Mobile Applications.
ROMEOVILLE, IL -- For many, the holiday season is a time for joy and celebration. However, the holidays can also be stressful, with additional costs and social expectations. According to the American Psychological Association, 38 percent of people said their stress level increases during the holidays.
ARLINGTON, TX -- OSHA's Dallas and Fort Worth Area offices and the Hispanic Contractors Association de Tejas have renewed a 2-year alliance to educate employers and employees on construction hazards.